Josh: Owner and Lead Teacher
Born and raised in New Jersey, USA, I first became interested in teaching English while in my first year of undergraduate studies in Chicago.
Upon hearing about TESOL (Teaching English to Speakers of Other Languages), I was quickly intrigued. I realized that, in addition to matching my skill set, teaching English would carry the benefits of being inherently relational, providing an opportunity to positively impact people's lives, and enabling me to meet people from all around the world. I switched my major to TESOL and embarked on my English-teaching journey that has taken me to 4 continents and given me the opportunity to help hundreds of students progress towards their English goals.
After almost 3 years of teaching English in Saudi Arabia, I decided to return to America to get a master's degree in TESOL. Having come to love the Arab culture and having reached an intermediate level of Arabic, I desired to continue teaching English to Arabs. However, I couldn't find any companies that were focused on connecting native English speakers to this special audience. Seeing that there was a major need, I decided to start a company to fill this gap, and thus English Today USA was "born" in April 2020. Early on, I received more requests for classes than I had time to teach, so I began searching for, hiring, and training other qualified teachers who could deliver high-quality English classes to learners from around the Arab world.
Jasmine and I got married on June 19, 2021, and she became co-owner, applying her linguistic, TESOL, and Arabic skills to empower more students and help them progress in their English journey.
As English has become the world language and a key to countless opportunities, we would love to come alongside you to help you improve your future by improving your English!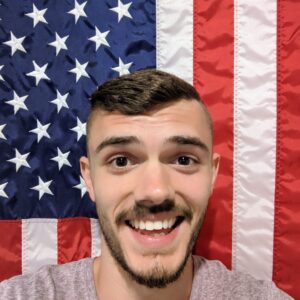 Josh's Qualifications مؤهلات 
Master of Education in TESOL (Teaching English to Speakers of Other Languages)

University of South Florida Graduate Certificate in English for Speakers of Other Languages

Cambridge CELTA Pass A

Only awarded to the top 5% of teachers who take this prestigious course

Bachelor of Arts in TESOL (Teaching English to Speakers of Other Languages)

Uni-Prep Institute 120-hour TESOL course

TOEFL: 120/120 (perfect score)

GRE Verbal: 166/170 (top 4% of graduate students)

New Jersey ESL Certificate of Eligibility
Josh's Experience خبرة
Teaching English since 2015

Has taught English in Saudi Arabia, Morocco, Britain, the USA, and online

Has taught private and group classes to students from:

The Middle East: Saudi Arabia, Kuwait, the UAE, Qatar, Egypt, Syria, Yemen, Jordan, Palestine, Oman, Iraq, and Bahrain

Africa: Morocco, Algeria, Libya, Tunisia, Sudan, Ethiopia, and Madagascar

Europe: Spain, France, Ukraine, and Italy

Asia: China, Vietnam, and Japan

North and South America: Mexico, Brazil, and Chile

Has helped over 10,000,000 students improve their English through Instagram and TikTok

Intermediate Arabic: I understand common difficulties for Arabic speakers, so I can help you stop speaking "Arab English"