Small Group with Josh (18 classes)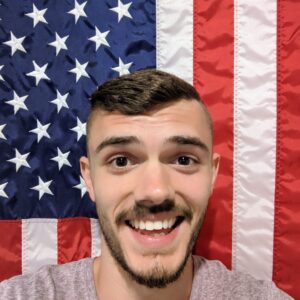 Small Group with Josh (18 classes)
For 18 classes with Josh, a professional English teacher from America (4-5 students with 1 teacher​). Each class is 40 minutes long.
Our intermediate-to-advanced class meets Tuesdays and Thursdays at 2:10pm New York time (10:10pm Saudi time).***
We focus primarily on speaking, grammar, reading, listening, pronunciation, and vocabulary.
Your classes will be offered through live video calls on Zoom. You will be able to see Josh and his screen so that he can show you PowerPoints, a virtual whiteboard, helpful websites, relevant documents, etc.

If you do not want Josh and the other students to see you, you can turn off your camera. You will still see Josh and his screen.
اضغطوا Click
1. "Add to cart" 2. "View Cart" 3. "Proceed to Checkout" 4. اكتبوا معلوماتكم Add your information 5. اختروا طريقة الدفع Choose credit card or PayPal 6. "Place order"
Customized lesson plans to help you reach your goals
Digital flashcards for all new words every class
Optional video recordings of each class (if all students request this). If you would like Josh to record the class and send it to you afterwards, send him an email requesting this (must be in writing). If any student does not request this, Josh will not record any of your sessions to protect your privacy.
Because this is a group class, you cannot cancel any classes. If you do not attend a class, this will still be counted as one of your classes, so please try to come every day. We want you to learn as much as possible!
**By registering, you are agreeing to the privacy policy and terms and conditions of English Today USA. Please read them carefully.